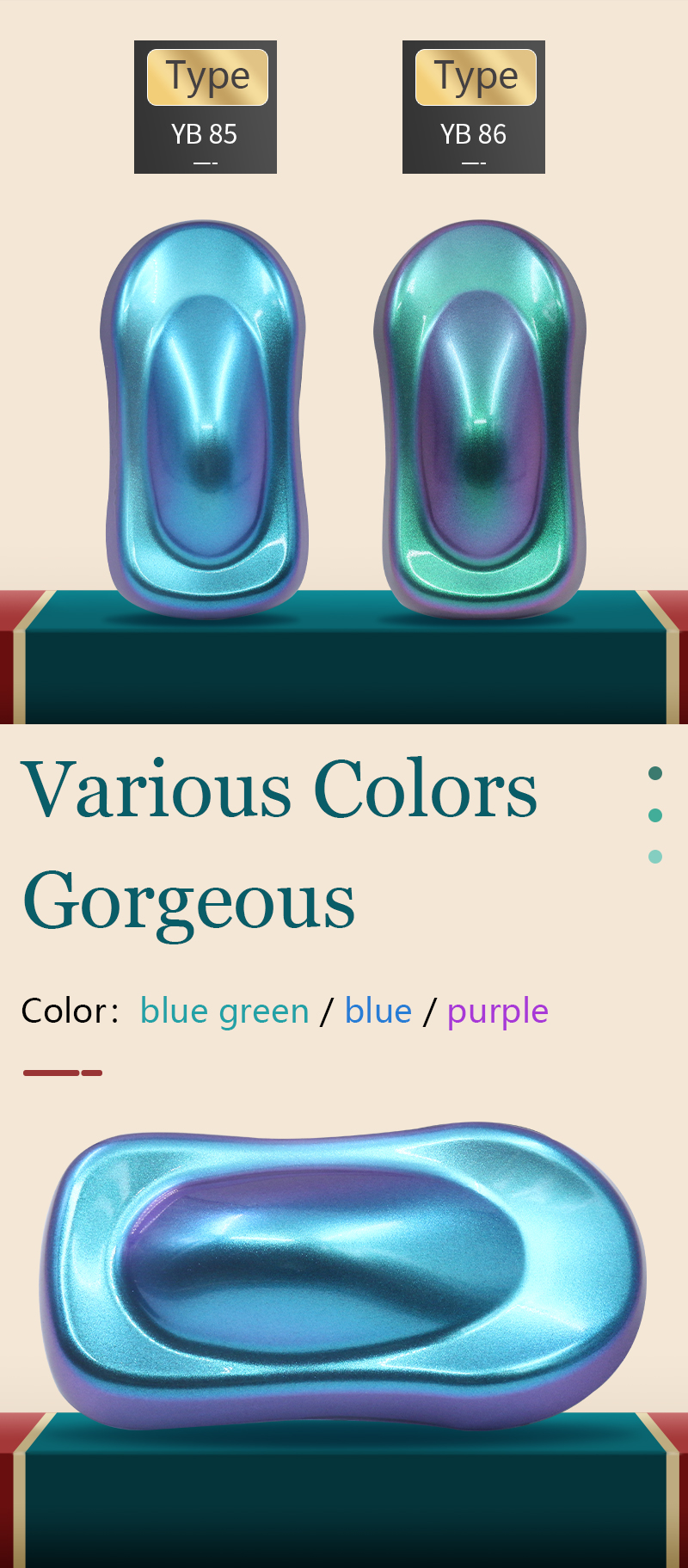 Name: Chameleon Pigment Powder
Type : Acrylic Paints
Package: 10 grams Pigment Powder
Type: YB84,YB85,YB86
Application: Car, Automotive, Arts, Crafts, Nail Decoration, Mobile Shell, Photo Frame, Furniture, Painting, Plastic
HOW TO USE
For Automotive Crafts
Firstly, wash your car with sandpaper or a sanding machine to paint the whole car to a polish state.
Secondly, the whole car with a special primer spray evenly black. Note: To completely cover the background of the car and can not be missed. The primer was added to 20-40% paint thinner.
Thirdly, the chameleon paint evenly in a thin sprayed body surface. Note: Wet spray! Speed Distance atomization consistent, otherwise there will be inconsistent with the depth of the phenomenon(Chameleon paint = Chameleon powder: Car varnish: Paint curing agent: Paint thinner= 3:47:25:25)
Lastly, the chameleon paint evenly wet spray on the body surface. Note: compaction ejects gloss and effect. The velocity distance atomization is consistent and can't spray flow liquid. After 30 minutes, spray varnish.
Note:
10 grams chameleon powder can be made for 300ml-400ml chameleon paint. A car usually need 2L-3L chameleon paint.
Chameleon paint = Chameleon powder: Car varnish: Paint curing agent: Paint thinner= 3:47:25:25
Two blending methods:
1.10 grams chameleon powder add 400 grams resin
2.10 grams chameleon powder add 200 grams varnish & 100 grams paint thinner & 100 grams paint curing agent
3. A bag of 10 grams of chameleon powder can be made for about 300ml-400ml of chameleon paint